After bombings, Iraq authorities detain 10 security officials
Prime Minister Nouri al-Maliki held meetings late into Wednesday night to reassess security measures. Iraqi official provides first details of how trucks with tons of explosives managed to get within striking distance of two ministries.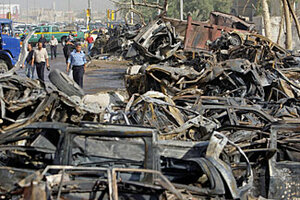 Khalid Mohammed/AP
In an almost unprecedented public admission that Iraqi security forces who took over sole responsibility for Baghdad in July have not been up to the job, Iraqi officials are investigating 11 security commanders for negligence.
On Wednesday, trucks loaded with huge plastic containers of explosives managed to approach two government ministries on major roads despite a ban, resulting in the capital's deadliest bombings in 18 months.
"We are investigating them because the violations happened in areas under their control," says Baghdad security spokesman Brig. Gen. Mohammad al-Askari, adding that he believes Iraq can still maintain security in the capital. He says they are not contemplating asking for help from American forces, who pulled out of the city on June 30 in line with the US-Iraqi security agreement.
The bombings outside the foreign and finance ministries killed more than 100 Iraqis and wounded more than 500 in the most devastating attack in the capital since February 2008. Less than two months after US combat forces withdrew from Baghdad, the attacks have also weakened many Iraqis' belief that the improved security of the past year would last.
Prime Minister Nouri al-Malaki and senior officials met late into the night after the attacks to reassess security measures. The government had pledged to remove concrete blast walls from the city's main roads and reopen streets closed to traffic by mid-September, but now residents expect them to stay.
---