Ramadi struggles to instill a rule of law
Attacks rise, but a new $21 million court has failed to convict any major suspects in six months. US Marines frustrated by shrinking role in key Iraqi city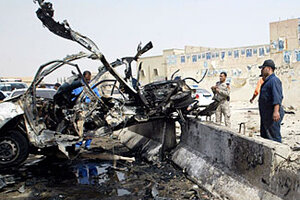 Ali al-Mashhdani/REUTERS/FILE
In this city that became synonymous with Al Qaeda-linked violence, Iraqi forces are grappling with corruption and lawlessness so pervasive it threatens to derail the hard-won security of the last two years.
Despite a $21 million, US-funded judicial complex opened recently and regular attacks, not a single major case has been brought to justice in at least the last six months, according to US military officials.
"My goal is to get them [Iraqi officials] to prosecute and develop a terrorism case," says Lt. Col. Joseph Cabell, commander of the 2nd Battalion, 23rd Marine Regiment.
But the clock is ticking. The Pasadena, Calif.-based infantry battalion leaves in October and will be the last Marine unit in Ramadi.
As the capital of Anbar, a province where the Sunni insurgency once flourished, success in Ramadi affects security throughout central Iraq, including Baghdad. And there are concerns that Al Qaeda in Iraq (AQI) and other insurgent groups may be reforming here.
Meet the judge
Cabell, from Parkersburg, West Virginia, started a monthly security conference two months ago, bringing together Iraqi police, special forces, army commanders and other officials to try to improve coordination in the capital. At the latest conference, the gathering included a judge, who was meeting some of the Iraqi police commanders he was meant to deal with for the first time.
---