Baghdad bombing leaves hole in diplomatic corps
Iraq's Foreign Ministry saw 10 percent of its staff killed or injured. Foreign minister blames systemic security breaches for last week's assault.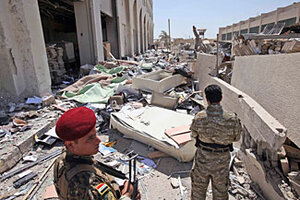 Karim Kadim/AP
Iraqi diplomats are clearing out the rubble of their bombed Foreign Ministry building while the nation grapples with the aftermath of an attack that has rocked the foundation of its fragile security and served notice that the country is still at war.
The twin suicide truck bombs that exploded outside the Foreign Ministry and Finance Ministry last week killed more than 100 people and wounded almost 600 in attacks on two major symbols of Iraqi sovereignty.
"What happened on Black Wednesday was truly a national tragedy," Foreign Minister Hoshyar Zebari told reporters in a press conference Saturday aimed at showing the ministry was working through the destruction. "This incident targeted the whole Iraqi government, the whole Iraqi state, to bring it down."
Outside the twisted facade and gaping windows of the 10-story building, city workers reerected blast walls taken down earlier this year in what Mr. Zebari bluntly described as overconfidence and a systemic failure of security.
"No to al-Qaeda, no to Saddam's henchmen. No to the malicious foreign hands that want to return Iraq to the era of darkness," reads one of the black banners strung across the wreckage in front of the vast apartment blocks built for government employees in the Saddam Hussein era.
Inside, Zebari held meetings in a makeshift reception room with plastic sheeting for walls. Iraqi officials with their heads bandaged walked the halls exchanging news of more severely wounded colleagues.
Thirty-two Foreign Ministry employees were killed in the blast. More than 60 other ministry people were wounded, many of them seriously, when the truck bomb struck. That's 10 percent of the ministry staff injured or killed.
---