Israeli officials press Sweden on journalist's organ theft story
Angry Israeli politicians and journalists charge claim of organ theft from Palestinians a "blood libel." They're seeking Swedish government condemnation, and threaten a chill in diplomatic relations if it isn't forthcoming.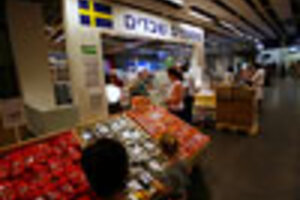 Ronen Zvulun/ Reuters
In the view from Jerusalem, the answer to the controversy is simple: the Swedish government should condemn Aftonbladet, the tabloid which last week printed an article suggesting that Israel snatched the organs of Palestinians who died in their custody.
In the view from Stockholm, the answer is equally simple: Israel should accept that in a democracy, newspapers are free to print what they wish, and that it isn't the place of governments to interfere.
In between these two "simple" views is a gulf of understanding that underlines the cultural differences between Europe and the Middle East.
The controversy began last week when Aftonbladet ran a story by journalist Donald Bostrom. He claimed that in 1992 while working in Israel and the occupied territories he'd heard rumors that the Israeli Defense Forces (IDF) were harvesting organs from detained Palestinians. He claimed that unnamed "UN staff" told him that "organ theft had definitely occurred." Bostrom suggested these claims should be reexamined following the arrest last month of a Jewish-American accused of plotting to buy a kidney from an Israeli and to sell it to an American patient.
---