The 'Elders' arrive in Israel to boost Mideast peace
The respected delegation, headed by former Brazilian President Fernando Henrique Cardoso, irked Israel by initially planning to meet Hamas in Gaza. That trip has been delayed.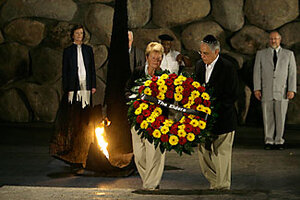 Ammar Awad/ Reuters
They're older and wiser, and with a few hundred years of (cumulative) experience under their belts, they arrived for a visit to Israel and the Palestinian territories on Tuesday in the hope that they might nudge along peace efforts.
The "Elders," as they are called, are a group of prominent former heads of state, renowned activists, and global business leaders who are trying to use their clout and cachet to affect change. Included in the delegation here are former President Jimmy Carter, South African Archbishop Desmond Tutu, former Irish President Mary Robinson, and Britain's Richard Branson, founder of the multinational Virgin Group.
The Elders describe themselves as an "independent group of eminent global leaders, brought together by Nelson Mandela, who offer their collective influence and experience to support peace building, help address major causes of human suffering and promote the shared interests of humanity," according to the group's website. But whether they will be able to lure Israelis and Palestinians to move more quickly on Middle East peace than other international interlocutors in Washington, Cairo, or Riyadh remains to be seen.
---