Skepticism over 'breakthrough' Middle East peace plan
London report of Israeli-Palestinian plan linked to Iran sanctions disputed by European experts.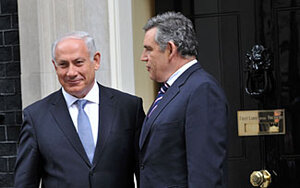 Newscom
A report by the Guardian newspaper that Israel is close to a White House Middle East peace deal – linking a partial freeze on Israeli settlements to sweeping sanctions on Iran – has captured diplomatic attention in Europe, though some details are being met with skepticism.
Most experts doubt the Obama team is ready to fuse the two crucial policies, particularly in the aftermath of Iranian elections.
Yet with French president Nicolas Sarkozy today suggesting "reinforced sanctions" on Iran if Tehran's nuclear policy does not change by a Sept. 20 UN summit, and expressing support for a Palestinian state and immediate freeze on settlements – the White House may have a partner in Middle East dealmaking. Under Sarkozy, France has taken an ever tougher line against Iran's nuclear and missile policy – partly to close the earlier gap with the Americans over Iraq, and partly because France and other European nations have crept closer to Israel.
Yet with authority in Tehran now in flux, European diplomats say, it is far too early to pose clear sanctions policies since their outcome could in the end hurt moderates and others seeking reform.
---