Palestinians say full settlement freeze is precondition to new peace talks
A lead Palestinian peace negotiator says the demand for a full settlement freeze – not a partial one – is a precondition to resuming peace talks. But a meeting between Prime Minister Netanyahu and Palestinian Authority President Abbas is still possible in September.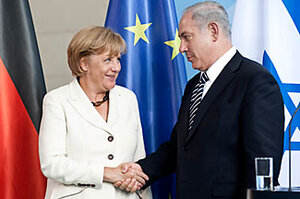 Eckehard Schulz/ AP
A senior Palestinian peace negotiator says the terms of a proposed Israeli deal to restart the peace process, leaked to the press this week, are unacceptable. But he did not rule out a meeting at the United Nations next month between Israeli Prime Minister Benjamin Netanyahu and Palestinian Authority President Mahmoud Abbas.
In Germany today, Mr. Netanyahu said that no new agreement to stop settlement building has been reached.
The proposed Israeli deal to temporarily freeze settlement expansion in the West Bank, with exceptions made for all of East Jerusalem and what Israel calls the "natural growth" of existing settlements, was reported by the Guardian, a British newspaper, on Tuesday.
In return, the US, Britain, and France would push for tougher economic sanctions on Iran's nuclear program and Arab states would agree to make steps toward normalizing relations with Israeli, both things the Jewish state dearly wants. The broad outlines of the proposal were confirmed for the Monitor by an Arab government official.
---