Thousands in Baghdad mourn Shiite leader Hakim
The funeral procession of the influential religious and political figure is to make its way south on Saturday to the holy city of Karbala, and then to Najaf, where Hakim will be buried.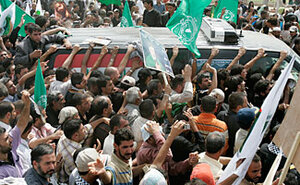 Saad Shalash/REUTERS
The body of one of the most influential Shiite leaders was brought back to Iraq Friday amid heavy security in a state ceremony that emphasized the country's shifting politics ahead of national elections in January.
The Iraqi government declared three days of mourning after the death of Abdul Aziz al-Hakim, head of the Supreme Iraqi Islamic Council (SIIC), and part of a long line of family members who fought against Saddam Hussein.
Mr. Hakim died Wednesday in Iran after being diagnosed with cancer in 2007. On Friday, his body was returned from Tehran on the Iraqi prime minister's plane. His coffin, draped in an Iraqi flag, was carried by an honor guard and met by Prime Minister Nouri al-Maliki, President Jalal Talabani, and other senior Iraqi officials.
The black turban signifying his family's descent from the prophet Muhammad was placed on Hakim's coffin, which was covered in flowers and placed on a covered platform on the tarmac.
---