What Gaza looks like through four Gazans' eyes
A millionaire owner of Gaza's finest Arab stallions, a fluent English student, a farmer, and a respected human rights advocate share their views.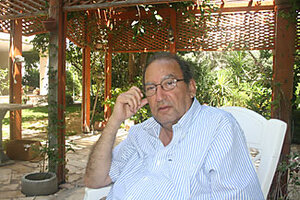 Rafael D. Frankel
Gaza has known its fair shair of battles. For the past nine years – during the second intifada and following Israel's 2005 withdrawal – the crowded, impoverished territory was often a flash point in the fighting.
But in the eyes of Eyad Sarraj, an independent local politician and human rights advocate respected by both Hamas and Fatah, Israel's 2009 Gaza war was "unprecedented. It was comprehensive community terror."
While Israel insists the army took great pains to avoid civilian casualties, and that its enemy was Hamas and not the people of Gaza, most here echo Dr. Sarraj's sentiments.
Sarraj cut off from Israeli friends, colleagues
Sarraj, who – unlike the majority of his countrymen – was in recent years allowed to travel outside Gaza's 240 square miles, is now stuck here like the other 1.5 million people. Unable to gain a travel permit from Israel, he sits most days in his garden, a green outpost in the urban jungle of Gaza City.
Isolated from friends and professional colleagues – including some Israelis, he notes – Sarraj looks forward to the diplomatic forays of international officials who, if they are in Gaza, almost always call upon him. Recent visits from Sen. John Kerry and United Nations Secretary-General Ban Ki-moon make Gazans feel as if they "are not abandoned," he says. "Because most of the time, you feel you are abandoned, that nobody cares."
---