Why Gaza's moderates are losing hope
Isolated by Israel and alienated by Hamas, they see little room for constructive lives in a society that is disintegrating.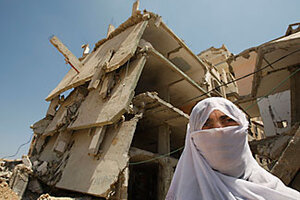 Ibraheem Abu Mustafa/ Reuters
When the last Israeli tank rumbled out of the Kissufim checkpoint just south of here in the early morning of Sept. 12, 2005, the residents of this farming neighborhood flooded the streets with their compatriots in a mass celebration.
Now, Mohammad Abed Rabo sits amid heaping piles of broken concrete and twisted metal rods seven months after the neighborhood, named after his family, was flattened by Israel's war against Hamas.
He has nothing to do all day but survey the wreckage in this coastal territory whose borders are effectively sealed by Israel and Egypt, allowing only a trickle of humanitarian supplies and rebuilding materials. Gaza is "a lamp without oil," says Mr. Abed Rabo.
The war was successful in its main aim: The frequency of rockets fired from the Hamas-controlled Gaza Strip onto Israeli cities such as Sderot was vastly reduced. (See related story on how Sderot's residents are faring.)
But Israel's efforts to weaken Hamas have left in their wake a disintegrating society in which the traditional foundations of hope, security, and opportunity have been largely eroded. The Islamist militant organization, though increasingly unpopular with a disillusioned public, has a virtual lock on power that leaves little room for alternative ideologies, enterprise, or constructive pursuits.
---
Follow Stories Like This
Get the Monitor stories you care about delivered to your inbox.