In Israel's Sderot, a reprieve from rockets, but not fear
Israel's offensive in Gaza largely stopped the Hamas rocket fire. But residents are reluctant to let down their guard.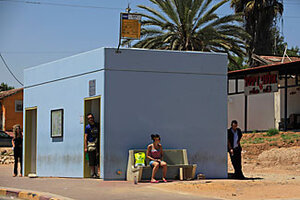 Tsafrir Abayov/ AP
During nearly a decade of intermittent attacks from Gaza, Mivtzah Kadesh Street became infamous in this battered town as a frequent target for rockets as well as a bombed-out backdrop for visits from foreign VIPs expressing solidarity.
Now, eight months after Israel's Gaza offensive to punish Hamas for attacks, Sderot's wrecked homes have been largely rebuilt. But after eight years of being on constant alert for unpredictable rocket attacks, it has not been as easy for Sderot's 19,000 residents to restore their peace of mind.
Yehudit Barkai, a field worker in Sderot for Natal, the Israel Trauma Coalition, compares Sderot's experience with America's.
"9/11 happened once. It was terrible, but it was only once," says Ms. Barkai, who says that many in Sderot suffer from post-traumatic stress disorder. "We're talking about eight years."
Sderot's experience is unique even for Israel: No other town here has endured such sustained stress for such a long period of time. Though casualties have been relatively low, the fear of attacks has taken a toll in this town less than three miles from the Gazan border.
"Every small noise can reawaken the fear," says Aliza Amar, a mother of four who last summer hosted then-presidential nominee Barack Obama in her wrecked home. "Anytime a door slams or a car alarm goes off you still hear the 'code red' alert."
---