In Iraq's prisons, a culture of abuse
As the US speeds the transfer of detainees in its custody, many appear headed into a notoriously violent system. Inmates at Abu Ghraib rioted Thursday and Friday.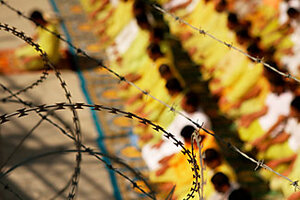 Maya Alleruzzo/AP/File
In a room thick with heat and sweat, light from a small window falls on rows of squatting prisoners and plastic bags of belongings hung from nails on every inch of the wall. The guard explains that 74 men live in this room, which is roughly 10 by 20 feet. A further 85 are usually in the corridor, he adds, while 12 are kept next to the toilet.
This is Hibhib prison on the outskirts of Baquba, the dusty, volatile capital of Diyala Province roughly 40 miles from Baghdad.
It is just one of the prisons in the province where detainees and US forces allege overcrowding, lengthy pretrial detention, and torture used to extract confessions. While the conditions here may be more severe than elsewhere in the country, Iraq's national detention system as a whole has been harshly criticized by Western human rights organizations.
A December 2008 report by the New York-based watchdog Human Rights Watch (HRW) went as far as to assert a "disturbing continuity" with Saddam Hussein-era detention. A committee set up by the Iraqi government in June is investigating abuses. But a lack of accountability and political will, say human rights workers, are serious impediments to reversing the culture of abuse cultivated under Mr. Hussein.
---