Mitchell in Israel to jumpstart talks
US Middle East envoy George Mitchell met with Israeli President Shimon Peres on Sunday and sounded optimistic that a deal on settlements could boost peace talks before the end of the month.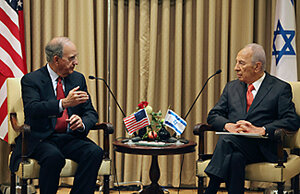 Jim Hollander/ Reuters
US Middle East envoy George Mitchell sounded cautiously optimistic before meeting with Israeli President Shimon Peres on Sunday about the prospects for an agreement before October on a settlement freeze that's expected to jump start peace negotiations with the Palestinians.
Mr. Mitchell, who is scheduled to meet on Monday with Israeli Prime Minister Benjamin Netanyahu and on Tuesday with the Palestinian President Mahmoud Abbas, said that while reports in the Israeli press that a framework for peace talks is already in place are "premature," they might become accurate in the "very near future."
It's the most upbeat public assessment of the talks over the course of a four-month dialogue that has revealed serious fissures between President Obama and Mr. Netanyahu. Mitchell concurred with Peres' suggestion that renewed Israeli-Palestinian talks could occur before the end of September.
"We share your sense of urgency," he said in remarks to reporters before holding talks with Peres. "It is our intention to conclude this phase of our discussions in the very near future, within the time frames that you suggest to enable us to move on to the next and really the more important phase."
A Palestinian state in two years?
---