Iraq's vice president says Iraq should call on US for security help
Adel Abdul Mahdi says in an interview with the Monitor that political reluctance to ask US troops for security support should be reconsidered.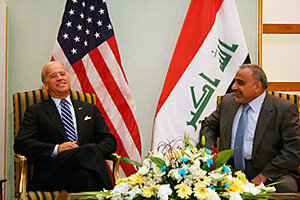 Ross Colvin / Reuters
Iraq should consider calling for more help from US forces in the wake of August's devastating suicide truck bombings in Baghdad, Vice President Adel Abul Madhi told the Monitor.
In an implicit criticism of Prime Minister Nouri al-Maliki's reluctance to ask for help from the US following the June 30 pullback of combat troops, Dr. Abdul Mahdi called for a re-assesment of the role of US forces here that could result in more involvement for American troops sidelined by what he termed an over-optimistic view of security in Iraq.
"This should be reassessed once again - whether it was too early, whether it was adequate this should be assessed," he said on Sunday when asked whether the withdrawal of combat troops from Iraqi cities has weakened security.
Abdul Mahdi said he was not suggesting renegotiating the Status of Forces Agreement which calls for a gradual withdrawal of US troops. He said the goal would be 'how to use the troops already there, to (not) neglect them, to make them functional in the way they should help Iraq, assist Iraq. There was a policy to put them completely aside. Whether that was mature or premature one should reassess and study and I think if it is reassessed we will find many weak points there."
---