Fresh Iranian protests inconclusive for opposition
Reformists failed to gain the new momentum and international visibility they sought by coopting Quds Day marches, an annual event to show solidarity with Palestinians.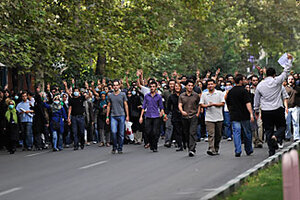 AP
Dubai, United Arab Emirates
A showdown between Iranian authorities and the opposition centered on Friday's annual Quds Day celebrations appears to have resulted in a draw, enabling the leadership to maintain the upper hand they have enjoyed of late.
Traditionally, Quds Day – so-called after the Arabic name for Jerusalem – is a time to protest the oppression of Palestinians. But this year, the opposition had aimed to shift the focus to those who protested the June election en masse before strict security measures largely shut them down. Many pro-reformists were hoping a large turnout might reinvigorate the movement and bring it back to the world's attention.
Thousands turned out in the first major rally in two months, defying the Supreme Leader's ban on antigovernment demonstrations. But it was not a decisive victory for the opposition, which in many cases was blocked from joining the tens of thousands who turned out for official Quds demonstrations, according to an Associated Press report from Tehran.
Defeated presidential candidate Mir Hossein Mousavi and former president Mohammed Khatami, who joined the parallel opposition protests, were reportedly attacked.
While many opposition protesters reportedly wore their signature color of green, eyewitnesses say that in some areas it was hard to tell where demonstrators stood politically.
---