Iraq-Syria dispute jeopardizes progress on stability, trade
Iraq's accusation that Syria was behind the massive Baghdad bombing a month ago Saturday has pushed relations to a new low.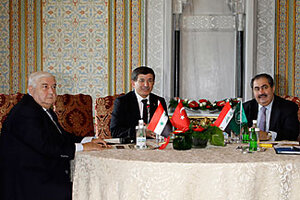 Ibrahim Usta/AP
A month after massive bombs rocked two Iraqi ministries in Baghdad, Iraq's relations with Syria have plunged from a historic high to a new low over accusations that Damascus facilitated the attacks. At stake are Iraq's stability, increased trade for Syria, and cooperation on water issues amid sustained drought.
On Thursday, high-level delegations from both countries met in Turkey, which is seeking to mediate between the two neighbors.
The heart of the dispute, say Western officials in both capitals, is not simply responsibility for the bombings, which were the capital's deadliest in 18 months, but broader Iraqi concern that Syria is harboring ex-Baathists and allowing foreign militant networks to operate under its nose.
A day before the Aug. 19 explosions, Mr. Maliki made a rare state visit to Damascus, during which he reportedly asked Syrian President Bashar al-Assad to turn over 179 people allegedly involved in Iraqi violence. Mr. Assad refused.
Maliki is now using the bombings to press his case – and, senior Iraqi politicians say, divert attention from his government's own failure to prevent the attacks. Domestic security is a key element of his campaign to win reelection in next January's parliamentary election.
---