Does Netanyahu want what Israelis want in peace talks?
A majority of Israelis support a two-state solution, including steps such as a settlement freeze.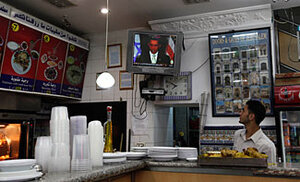 Tara Todras-Whitehill/AP
While Israeli Prime Minister Benjamin Netanyahu attended his first-ever trilateral meeting with President Barack Obama and Palestinian leader Mahmoud Abbas in New York on Tuesday, the usual chorus of critics and supporters came out to jeer or cheer.
But it was not all business-as-usual. There are indications that Israelis have grown slightly more skeptical of the possibility of peace with the Palestinians and more wary of US involvement in the conflict. A recent study by the Harry S. Truman Center for the Advancement of Peace, based at the Hebrew University of Jerusalem, found that about 40 percent of Israelis think that the Obama administration favors the Palestinians, while only 12 percent think it favors Israel. The results have led Israelis to be less enthusiastic about US intervention in the peace process.
58 percent of Israelis support two-state solution
The majority of Israelis do support a two-state solution, and are willing to accept steps – such as a much-debated settlement freeze – to make that happen, says veteran pollster Rafi Smith. But few Israelis are hopeful that such a solution will be implemented in the short term.
---