Iranian diaspora protests Ahmadinejad at the UN
Outside the UN, thousands of Iranians from across the US – and beyond – protested Iran's elections and the continued detention of opposition supporters.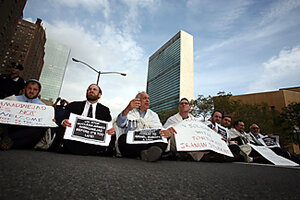 David Karp/AP
Thousands of Iranian expats from across North America – and beyond – gathered in New York Wednesday to take part in demonstrations against Iranian President Mahmoud Ahmadinejad, who is scheduled to address the UN General Assembly Wednesday.
Clad in green, the signature color of Iran's opposition movement, protesters gathered in front of Iran's mission to the United Nations and marched to Dag Hammarskjold Plaza adjacent to the UN building in midtown Manhattan.
The scale of this protest – and distances traveled – are the latest indication of how strongly the Iranian diaspora feels about Iran's June 12 elections.
Supporters of the opposition say that Mr. Ahmadinejad's landslide victory in Iran's presidential elections was fraudulent. Shouts of "Liar, liar – where's your 63 percent?" and "Death to the dictator" were chanted by demonstrators holding anti-Ahmadinejad posters and banners. Some protesters covered their faces using sunglasses, surgical masks, and scarves to avoid recognition.
"I'm here out of respect for all the families who lost sons and daughters fighting for democracy," said Hiva, a schoolteacher who flew in from Chicago to attend the protest. "I stand here for those in Iran who don't have the freedom to assemble. This is the least I can do."
---