Palestinian TV airs daring satire
A rarity in the mideast, the political show spares no one – but even President Mahmoud Abbas is chuckling.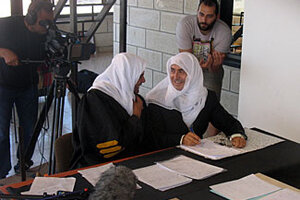 Joshua Mitnick
On "Saturday Night Live," which has long parodied politicians ranging from Jimmy Carter to Sarah Palin, these characters would be well within bounds: An Islamist judge who is a latent homosexual. A negotiator who emerges from peace talks stripped to his boxers. A president who worries about his Israeli-issued checkpoint pass.
But this is Palestinian state TV.
Premièring during the holy month of Ramadan, the first-ever Palestinian political satire show turns national leaders and military strongmen into absurd protagonists on its nightly broadcasts, winning a growing viewership.
A rarity across the Middle East, the comedic production known as "Watan a la Wattar" marks a seminal experiment in self-mockery and free speech in a society torn by internal politics and hemmed in by Israel's military occupation.
"Through comedy you can reach the heart of the audience more quickly," says actor Manal Awad during a break in filming at an upscale Ramallah loft studio. "The Palestinian people deserve to laugh because we have enough drama. If you make people laugh at difficult topics, you force them to look at things with a different point of view."
Palestinian introspection
The show also holds potential to spark meaningful debate at a time when an easing of hostilities with Israel is allowing for greater introspection among Palestinians.
---