US exit strategy: Empower Iraqis
Officers are forging a new approach in the south, building trust with their Iraqi counterparts.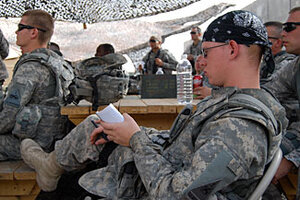 Jane Arraf
Contingency Operating base adder, Iraq
The lights of long lines of freight trucks and military vehicles illuminate the desert night at this former Iraqi air base, the hub of the US military's evolution of a new kind of force meant to see Iraq through the next two years.
Across a huge swath of southern Iraq, soldiers from the first of the military's new Advise and Assist Brigades (AAB) have fanned out across three provinces stretching to the Iranian border, drawing on lessons learned at military installations and civilian agencies – even US city halls – and trying to leave behind the habits of previous combat tours.
"It's a giant laboratory," says Col. Pete Newell, commander of the 4th Brigade, 1st Armored Division, based in Fort Bliss, Texas. "I think what these three provinces represent is what the rest of Iraq could look like in 10 or 12 months."
His brigade, which arrived early this summer, is the first fully functioning combat brigade to be given intensive specialized civil affairs training and sent into an environment where they largely rely on Iraqi security forces for protection.
In an Iraq where the US military is no longer in charge, the mission marks a major shift – in mind-sets, as well as strategy – that relies on building relationships with Iraqi leaders rather than telling them what to do.
---
Follow Stories Like This
Get the Monitor stories you care about delivered to your inbox.