Why Iran's missile tests may not play well in Tehran
The show of force ahead of nuclear talks is a well-tested strategy. But only 1 in 10 Iranians support nuclear weapons, and many question the government's legitimacy after June elections.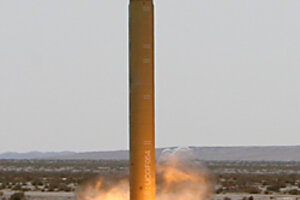 Ali Shayegan/ Fars News/ Reuters
Amid increasing international support for tougher sanctions on Iran, the Islamic republic launched its longest-range missiles in a show of force ahead of nuclear talks scheduled for Oct. 1 in Geneva.
Iranian state media heralded the successful launch of a new generation of Shahab-3 and Sajjil ballistic missiles, which are capable of reaching Israel, US bases in the Middle East, and southeastern Europe. The launches added to media buzz generated by Tehran's revelation last week that it had been covertly constructing a second uranium enrichment facility. But there are signs that playing the traditional nuclear trump card to rally nationalist fervor may backfire for the regime, whose legitimacy many Iranians have challenged in the wake of June elections.
"Whenever foreign pressure on Iran rises, the hard-liners respond by testing missiles – a threat specifically leveled at Israel," says a political analyst in Tehran with reformist sympathies who asked to remain anonymous for fear of government reprisal.
But based on what callers on BBC Persian programs, bloggers, and people on the street are saying, he believes that approach has become "threadbare" in the eyes of the Iranian public. "The legitimacy of the entire regime is under question for a large swath of Iranians. Many now consider the nuclear program a core propaganda element of Ahmadinejad's administration, trumpeted as an inviolable national interest to divert attention from the political and economic failures of the Iranian government."
---