Dallas terror plot: Troubled Jordanian teen or jihadist?
Hosam Smadi liked his American teachers, rarely visited the mosque, and came from prominent families that reject terrorism. Why was he talking about jihad on extremist websites?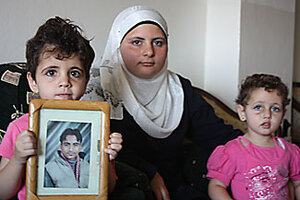 Taylor Luck
Known to wear a cross around his neck and spend more time in churches than the local mosque, US terror suspect Hosam Smadi has many Jordanians rethinking what makes a "terrorist."
Few in Jordan could have predicted that the 19-year-old Jordanian, who reportedly memorized Christian hymns and had close friendships with his American teachers, would end up in a US federal prison after being arrested on Sept. 24 and charged with attempting to bomb a Dallas skyscraper. As Jordanians struggle with how the life of a young man from the heartland of the Hashemite Kingdom went so wrong, their government hopes its Islamic education initiative will deter not just hardened militants but other troubled teens from getting caught up in terrorist activities.
"He was a very young man playing on the Internet and was placed in a very dangerous situation," says terrorism expert Mohamed Abu Rumman, adding that there have been five cases in Jordan this year similar to Mr. Smadi's – university students trolling extremist jihadi websites, posting messages inquiring "how to best carry out jihad."
Smadi was charged in a Dallas federal court last week after FBI agents, who discovered him on an extremist website earlier this year, lured him into a fake bomb plot. They reportedly tried to discourage him from following through with it, but according to the FBI affidavit, he told them he came to the US specifically to commit "jihad for the sake of God."
---