Iran nuclear talks in Geneva: What is Tehran's strategy?
At a midday break, diplomats said the tone has been "civil" but a US official says Iran's delegation lacks the 'cohesion and confidence' to make a deal.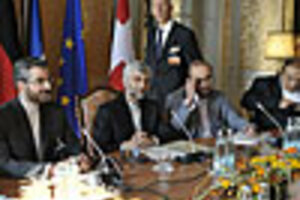 Keystone Dominic Favre/AP
Iran says it has come to Geneva with "goodwill" for talks Thursday with six world powers, and diplomats confirmed at midday a "cordial and businesslike" tone in the first session.
"We want these talks to be successful and we want logic to dominate the atmosphere of the talks," an unnamed Iranian official told Reuters.
But Tehran's recent declaration of a secret second nuclear enrichment facility and new missile tests this week will likely affect its strategy in the meeting with the US, Britain, France, Russia, and China – the permanent five members of the UN Security Council – plus Germany, a group known as P5+1.
"Now with the second installation revealed, it may be that [the Iranians] allow more transparency in some of the recognized [nuclear] sites, in order to divide the P5+1 and to stop the momentum against them," says Shahram Chubin, a Carnegie Endowment nonproliferation specialist based in Geneva.
---