Nuclear talks: Iran agrees to meet US, world powers twice more in October
Iran appeared to understand there was new urgency on the nuclear issue, agreeing at the Geneva talks to open its second enrichment facility to inspectors.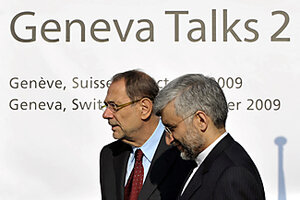 Dominic Favre/ Keystone/ AP
Iran and world powers agreed in Geneva on Thursday to "intensify dialogue" on Iran's nuclear program and other issues, by meeting twice more in October. But though both sides seemed cautiously pleased, their agendas remained far apart.
The first priority of US and other Western officials is to stop – or at least limit – Iran's nuclear progress, with the threat of "crippling sanctions" if Tehran does not comply.
Iran's focus is on a host of broader problems, from security and weapons of mass destruction to economic meltdown and drug trafficking. Its previously released five-page "proposal" to help retool the global order, which the Iranian delegation invoked in Geneva, makes no mention of Iran's nuclear program.
Still, the galvanizing effect of the revelation of a new enrichment facility on the US, Britain, and France to press Iran harder to resolve the nuclear impasse or face more sanctions, seems to have caught the attention of Tehran. Despite a host of internal problems in Iran after President Mahmoud Ahmadinejad's contested reelection in June, the Iranian team in Geneva appeared engaged to Western negotiators.
Asked if he felt the Iranians understood that this was a "different moment," that it might be "time to talk more," European foreign policy chief Javier Solana replied: "Yes, I think the [Iranian] delegation came knowing it was a different setting than in previous meetings."
---