Israel's captured youths: Gilad Shalit and a Palestinian girl with braces
In an interview, Baraah Malki – one of the first of 20 female Palestinian prisoners to be released by Israel in exchange for a video of kidnapped soldier Shalit – talks about her time in prison.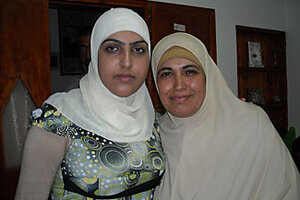 Ilene R. Prusher/The Christian Science Monitor
Jalazon Refugee Camp, West Bank
Baraah Malki, one of 20 Palestinian prisoners Israel released in exchange for a video of captured soldier Gilad Shalit, can hardly believe that she's home.
Just as she could hardly believe what she'd done when she woke up in an Israeli prison cell on Nov. 29 last year.
The day before, she'd gone out in the morning on a pretense of leaving for school, but instead headed for an Israeli military checkpoint with a large kitchen knife stashed in her knapsack. She was planning to stab a soldier, but was spotted, she says. She dropped the knife and ran.
She was quickly arrested and later convicted of attempted murder. The sentence was 3.5 years, but because she was only 14, her sentence was reduced to 11 months.
Now in a bit of a daze that she's actually free, she is back home – one of the first of the 20 prisoners to be released, though the fact that her release was imminent anyway has prompted Israel to free another prisoner on Sunday. Baarah is also the youngest of the group – and probably the only one with braces on her teeth. Like Sergeant Shalit, who was 19 at the time he was captured by Hamas militants in a cross-border raid, her youth seems to underscore the extent to which young people here continue to pay the price of a conflict their elders have failed to solve.
Why she plotted to stab Israeli soldiers
Tall, veiled, and wide-eyed, Baraah is the youngest of eight children, two of them brothers in Israeli jails. More than a year ago, she recalls, the army came to their house here in the Jalazon Refugee Camp, north of Ramallah, in the middle of the night. The soldiers got the whole family up, and then she watched as they dealt roughly with her brother Mohammed, then 18, and ultimately arrested him.
---