In Jerusalem, clashes over Temple Mount, Al Aqsa Mosque
Israeli police and Palestinians skirmished Sunday over the closure of Al Aqsa mosque in Jerusalem for second week in a row.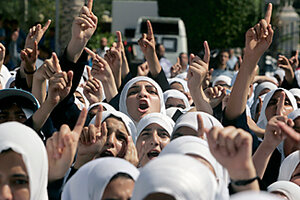 Ismail Zaydah / Reuters
Israeli police shut down access to key Muslim holy sites in Jerusalem's Old City on Sunday, spurring Palestinian protesters to throw rocks and bottles in protest – marking the second consecutive Sunday of disturbances near the city's overlapping points of prayer for Jews and Muslims.
Clashes broke out in reaction to Israel's closure of the entrances to the Dome of the Rock and the Al Aqsa Mosque, Islam's third-holiest site. About 150 Palestinians who gathered for a prayer service near the city's Lion's Gate on Sunday morning hurled rocks and bottles at Israeli police, who fired tear gas in attempt to disperse the crowd. Palestinian officials said nine people were treated for light injuries, primarily tear gas inhalation. Israel said two of its policeman were sent to hospitals after being injured by rocks and bottles.
An Israeli police spokesman said that the decision to close the site was made following calls in various Palestinian media on Saturday night to march on the Haram el-Sharif (The Noble Sanctuary), as it is called in Arabic – referred to by Israelis as the Temple Mount. Several Islamic groups claim that an Israeli archeological dig below the site is endangering Al Aqsa and that it will soon collapse, a claim Israel denies.
---