Yemen's strikes against Shiite rebels leave 30,000 refugees
UN official John Holmes visits Yemen Thursday to highlight thehumanitarian crisis as concerns grow about a potential haven for AlQaeda.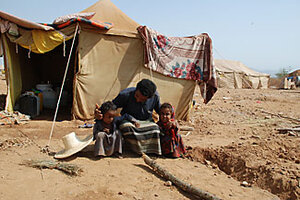 Courtesy of Naseem-ur-Rehmam /UNICEF
Since mid-August, a long-simmering conflict between the Yemeni government and Shiite rebels has flared up in the north of the country, threatening the stability of one of the Arab world's poorest states and raising fears that it may become a new haven for Al Qaeda.
But while the central government continues to expend its resources and energy on shutting down the rebels, known as the Houthis, the dire humanitarian crisis it has spawned is also in urgent need of resolution. Since early September, 30,000 internally displaced persons (IDPs) have been in refugee camps and 120,000 more are in need of aid, according to the United Nations.
Fighting first broke out between the Yemeni government and the Houthis in the northern Yemeni town of Saada in 2004. Central among its grievances with the militants, the Yemeni government accuses the Houthis of striving to restore a Shiite imamate – which was originally abolished in the 1962 – in the north of the country.
"The UN humanitarian community in general [is] really concerned because we don't have enough factual information about the situation [in Saada], which complicates our own emergency assistance and poses additional obstacles to the operation," says Laure Chedrawi, spokesperson for the UN refugee agency in Yemen.
The UN is concerned enough that John Holmes, the under-secretary for humanitarian affairs and emergency coordination, was sent to Yemen today. He hopes to "highlight the potential impact of continued neglect by the international community to humanitarian needs in Yemen," according to a UN release.
---