As UN weighs Goldstone report, Israel debates next step
Worried that Israeli soldiers and politicians could face charges of war crimes in the Gaza war, some say Israel should preempt international action with its own inquiry.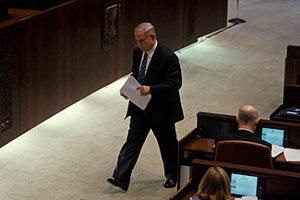 Dan Balilty/AP
As the Goldstone report on the Gaza war circulates through United Nations bodies, Israelis who are increasingly worried that soldiers and politicians could face war-crimes charges are suggesting that Israel defend itself – with an inquiry of its own.
The 575-page report taken up in Geneva by the UN Human Rights Council on Thursday has been condemned by most Israeli politicians as slanted and libelous. But legal figures and commentators here say that Israel must appoint a credible panel of jurists to address charges the army targeted Gazan noncombatants and civilian infrastructure.
A local inquiry would help neutralize appeals for foreign courts to assert universal jurisdiction over the three-week war, says former Israeli Justice Minister Amnon Rubinstein. It would also help the US justify a veto of an expected Security Council vote on whether to refer the matter to the UN's judicial body, the International Criminal Court.
---