Saudi concern rises over Al Qaeda activity in Yemen
Two Yemen-based militants dressed as women, one of whom was a former Guantánamo prisoner, were intercepted at a Saudi checkpoint last week.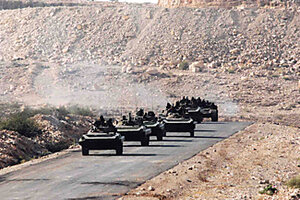 Yemeni Army/AP/File
The discovery by Saudi police of two Al Qaeda extremists wearing explosive vests in preparation for an "imminent" suicide attack underscores yet again the rising threat to Saudi Arabia from the deteriorating security situation in neighboring Yemen.
The target of the foiled Oct. 13 attack is not yet known, Ministry of Interior spokesman Gen. Mansour Al Turki said Monday. But equipment found in the men's car last week, including explosives, machine guns, grenades, and two additional vests, suggests that the operation would have been significant – potentially resulting in the loss of many lives.
The men, one of whom spent several years in the US detention facility in Guantánamo Bay, Cuba, had been sent to Saudi Arabia by an Al Qaeda affiliate based in Yemen, according to a Saudi Interior Ministry statement. Their foiled attack was the second close call for Saudi security forces in less than two months involving Saudi militants from the Yemen-based group, Al Qaeda in the Arabian Peninsula (AQAP).
Made up largely of Saudis and Yemenis, AQAP is reportedly being reinforced by veteran jihadi fighters from Iraq and Afghanistan, according to some analysts. It is able to work in relative freedom in Yemen because of the Yemeni government's preoccupation with its own more pressing issues, namely a full-blown rebellion in the north and a secessionist movement in the south. Another reason the Yemeni government tolerates the group's presence may be because the jihadi fighters sometimes assist Yemeni forces in military operations against the rebels, a Western diplomat said – all of which make the precarious state a potential haven for militants.
---