US scientist Stewart Nozette charged with trying to sell secrets to Israel
Stewart Nozette, a scientist who worked for NASA and had a top-level government security clearance, is charged with trying to sell US secrets to Israel after an FBI sting operation.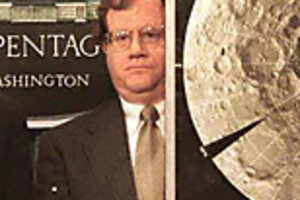 AFP/Newscom/File
Israeli officials declined to comment Tuesday on the arrest of US scientist Stewart David Nozette on espionage charges.
According to an FBI criminal complaint, Mr. Nozette was passing classified information to agents he believed were working for the Mossad, Israel's intelligence agency, but were really undercover US officers. He was arrested on Monday.
The complaint does not accuse him of spying for Israel, but it did reveal that Nozette believed he had already been working for Mossad through a front organization in the past. According to the document, he told an undercover agent whom he believed to be from Mossad, "I thought I was working for you already. I mean, that's what I always thought. [The foreign company] was just a front."
That company has been identified in the Israeli press as Israel Aircraft Industries (IAI), which is owned by the Israeli government and is the country's largest aerospace and defense company.
From November 1998 through January 2008, Nozette worked as a technical consultant for IAI, answering questions posed by the company once a month in return for payments totaling about $225,000 over a decade.
Israeli officials said there was no reason to comment on the issue, pointing out that he hasn't been accused of spying for Israel. Israel Radio reported Tuesday that senior government officials said in response to the developments that Israel does not gather intelligence in or spy on friendly states.
Spying on friends?
---