Iran nuclear talks with US, other powers stall in Vienna
A round of talks on Iran's nuclear program in Vienna, at which the US and other powers were hoping to nail down a deal, faltered on Tuesday.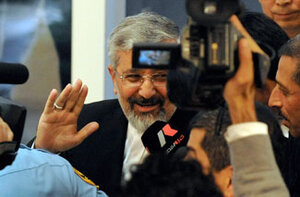 Hans Punz/AP
Iranian negotiators played it tough on the second day of "brass tacks" talks on their nuclear program Tuesday. Some diplomats had been hoping for a breakthrough, with a deal sealed to send a large portion of Iran's nuclear fuel abroad for further processing. Instead, Iran appeared to shift the playing field.
In particular, the Iranian delegation objected to French participation in the plan to ship nuclear fuel out of the country -- something that Iran had appeared to agree to at the start of October -- and delayed the formal meeting all day.
Finally in the evening, International Atomic Energy Agency (IAEA) chief Mohammed Elbaradi managed to coax Iranian officials to a set of intensive talks with the US, and later on they met with all of the delegations for a round of negotiations that remained inconclusive by 10 pm.
Mr. Elbaradi, who leaves office next month, is thought to see the historic talks as part of his legacy. On Tuesday he said only that nuclear negotiations were "making progress" and that a deal is still "possible." He didn't elaborate further.
The Vienna negotiations are part of the Obama administration's strategy to give Iran a chance to abide by international rules designed to limit the proliferation of nuclear weapons. Though Iran insists that its nuclear program is only for civilian power, the White House has given Iran a finite amount of time to show "good faith" following a historic Oct. 1 Geneva meeting that saw the US and Iran meet directly for the first time in decades, as a senior US diplomat put it. US
---
Follow Stories Like This
Get the Monitor stories you care about delivered to your inbox.