Gaza: Hamas tightens, then backs off, Islamic social strictures
Hamas appears to be trying to boost its Islamic credentials at home through restrictions on women's dress and men walking with women who are not family.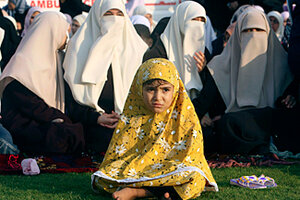 Mohammed Salem/Reuters
Like many high-schoolers in Gaza City, Diana Hawajiri often favors trendy jeans, a long-sleeved shirt, and a head scarf. But when she showed up after the summer break, signs posted at her government-run school announced that it was mandatory for all female students to wear the jalibab – a loose dress designed to shroud the female figure.
Diana complied. And though the decision was later rescinded, she still wears the garment to avoid criticism both at school and in public, she says.
The warnings appeared at the same time a similar Hamas government-sponsored campaign condemned Western-style clothing and other "vices." The government also issued a decree ordering female lawyers to cover their heads in court.
After a media outcry, Hamas backtracked on some measures – and denied any plan to implement strict Islamic law in the territory it has controlled since ousting Fatah fighters two years ago.
A move to bolster Islamic credentials?
But residents and human rights activists say there is a clear discrepancy between Hamas's assurances and what is happening on the ground, signaling that the movement may be trying to bolster its Islamic credentials at home, where it has been under fire for failing to implement strict Islamic law, even as it pushes for recognition abroad.
Hamas, isolated diplomatically since it won Palestinian legislative elections in 2006, now rules the Gaza Strip amid a tight Israeli-Egyptian blockade. It is fighting to gain the international legitimacy it needs to open Gaza's borders and take part in any high-level negotiations between Israeli and Palestinian leaders. But the movement's charter also calls for the establishment of an Islamic state in Israel and the Palestinian territories.
---