Does J Street arrival signal a split in America's Israel lobby?
J Street challenges the dominant role AIPAC has played in defining how US Jews see Israel. Why is a prominent Israeli politician not attending J Street's national conference in Washington this week?.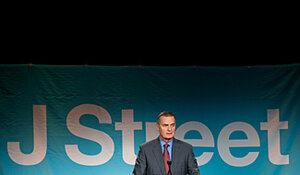 Saul Loeb/AFP/Newscom
Since the 1950s the American-Israel Public Affairs Committee (AIPAC) has been the mainstream voice of the Jewish-American community and its efforts to strengthen support for Israel in Washington.
Along comes J Street, a young upstart founded last year, in part as an answer to AIPAC – perceived by many progressive American Jews to have a clear right-wing tilt, and hardly representative of those want to see a much more aggressive push towards a two-state solution to the Israeli-Palestinian conflict.
J Street, in the thick of its first national conference in Washington that began Sunday and concludes Wednesday, has attracted 1,500 attendees – above and beyond what its organizers expected. Perhaps more interestingly, it has attracted the attention of the highest levels of government and diplomacy, and has the blogosphere buzzing about what it all means for the future of US-Israel relations.
National Security Adviser General James Jones, one of the most senior US officials to address the conference, told J Street participants Tuesday that the Obama administration believes that "Israeli security and peace are inseparable." But what's been particularly noticeable is who among beltway powerbrokers is not making his way over to the conference at the Grand Hyatt. Missing is Michael Oren, the Israeli Ambassador to the US appointed by Prime Minister Benjamin Netanyahu.
---
Follow Stories Like This
Get the Monitor stories you care about delivered to your inbox.