Iraq: US military contractor burns recyclables, violating contract
KBR was contracted to recycle cafeteria waste at Forward Operating Base Warhorse. Such spotty accountability is coming under new scrutiny; an Oct. 30 report reveals that transactions worth $10.7 billion are being audited.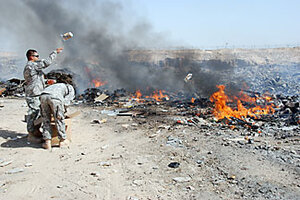 Tom A. Peter
Forward Operating Base Warhorse, Diyala Province, Iraq
In this desert fortress of housing trailers and concrete barriers, military contractor KBR has launched a recycling campaign – a kind of oasis in the military, an institution not exactly renowned for environmental activism.
As soldiers exit the dining facility, run by KBR and its subcontractor Najlaa International Catering Services Iraq, they see signs along the emerald walkway urging those who "like to recycle" to follow the path and "Think Green." At the end of the path, soldiers sort aluminum cans and plastic silverware into separate bins.
But there's one problem: The recyclable goods are thrown into a pit with the rest of the trash and burned. While this is likely to disappoint soldiers who "like to recycle," it also is a breach of the government's contract with KBR to run the dining facility on FOB Warhorse, according to the US government's Defense Contract Management Agency (DCMA).
The chimerical recycling program is apparently a microcosmic example of the spotty accountability under which contractors have operated – at substantial expense to US taxpayers. A report issued Oct. 30 by the Special Inspector General for Iraq Reconstruction (SIGIR) said that audits of $6.4 billion worth of contracts revealed "internal weaknesses," including inadequate oversight of invoices and excessive change orders. The report also noted evidence of duplicate payments and payments sent to fictitious addresses and unapproved contractors.
Eyewitness account: 'recycling' burned in trash pit
---