Palestinian PM criticizes Clinton for letting Israel set peace agenda
This weekend, Clinton appeared to back off from US demands for an Israeli settlement freeze, raising the ire of Arabs. In Morocco today, she tried to mollify them.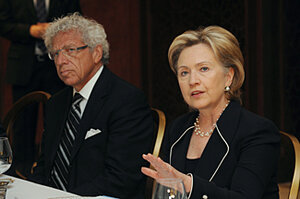 Abdelhak Senna/AFP/Newscom
Following US Secretary of State Hillary Clinton's visit here this weekend, Palestinians are reacting with frustration over what appeared to be a shift in the Obama administration's policy toward Israeli settlement growth in the West Bank.
Although Secretary Clinton had previously insisted that the US wanted a total freeze on West Bank settlement expansion, she said during her meetings here this weekend that Palestinians should return to negotiations without preconditions – and lauded Israeli Prime Minister Benjamin Netanyahu's steps toward limiting settlement growth as "unprecedented."
Palestinian Prime Minister Salam Fayyad, in an interview with the Monitor, said that this most recent development illustrated an "asymmetry" in negotiations dating back to the 1993 Oslo Accords – and one that must be rectified in order for future talks to be more fruitful.
"What are we going to do when it comes time to actually resolving these issues, and we're told, 'Sorry. That's all that can be on offer because that's all that Israel is prepared to offer,'" said Dr. Fayyad, adding that Palestinians are being asked to settle for less than what was considered as conducive to peacemaking under the Bush administration. "The key idea underlying the Oslo process leaves the matter of ending the occupation up to the occupying power – that is, Israel. Where we are today shows the shortcomings of this approach."
Netanyahu takes credit for 'economic boom'
---