Growing concern over Iraqi election impasse
Iraqi lawmakers are deadlocked over how to conduct the crucial Iraqi election, slated for January. A delay could postpone the US withdrawal.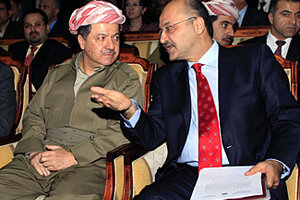 Yahya Ahmed/AP/File)
Concern over crucial Iraqi elections grew on Monday as parliamentarians here considered a new United Nations proposal aimed at breaking a two-month deadlock over how to conduct the vote, slated for January. Negotiations over the election law have remained stalled over one of the most emotional issues in the country – the disputed city of Kirkuk.
The United States and the UN, concerned that a further delay would require postponing elections past January, have issued unusually pointed statements in the past week urging the Iraqi factions to try to settle their differences. US Vice President Joe Biden telephoned Kurdish leader Massoud Barzani, president of the Kurdish Regional government, on Sunday to urge him to agree to an election law, Kurdish officials say.
The US and UN "should be worried," says Hunain al-Qaddo, a member of parliament from Iraq's Shabak minority. "If we don't manage to make any progress on the electoral law, that will have a negative impact on the political process and it will send a very bad signal to Iraq's enemies that the political system isn't working."
---