Israel seizes weapons it said were being sent by Iran to Syria
Israel's Navy seized a ship off the coast of Cyprus with 500 tons of weapons that it alleges were sent by Iran to Syria, and ultimately destined for Hezbollah militants in Lebanon.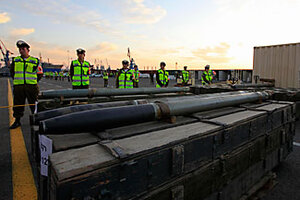 Tsafrir Abayov/AP
Israel said on Wednesday that its Navy had intercepted a ship, some 100 miles offshore in the Mediterranean, carrying Iranian containers concealing more than 500 tons of weapons. The armaments, Israel alleges, were bound for Syria and eventually Hezbollah in Lebanon.
Israel's security services have recently alleged Hezbollah violations of the cease-fire deal that ended the 2006 between Israel and said that Hezbollah appears to be rearming for future conflict.
The Jewish state also accused Syria of serving as an intermediary for the arms shipments.
"This cargo is [further] proof of the ongoing efforts of Iran to support terror," said Brig. Gen. Rani Ben Yehuda. "It is clear that these terror weapons were destined for Hezbollah."
In Tehran, Syrian Foreign Minister Walid al-Moallem dismissed Israeli allegations that the ship carried arms, the Associated Press reported.
"Unfortunately, some official pirates in the seas, sometimes in the name of the Navy, sometimes in the name of inspection, obstruct trade movement between Syria and Iran," Mr. Moallem said at a joint news conference with his Iranian counterpart.
Military officials said one of their ships stopped the Antiguan-flagged Francop late Tuesday evening, during what they described as a routine patrol of the international waters off the Israeli coast.
---