At heart of Yemen's conflicts: water crisis
A recent report shows that 70 to 80 percent of rural conflicts are over water shortages in Yemen, already on the brink of becoming a failed state.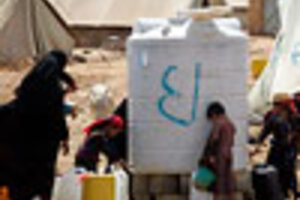 Khaled Abdullah/Reuters
While domestic insurgencies chip away at the control of Yemen's central government and an Al Qaeda branch gains strength in regions beyond the government's reach, another crisis — one that affects Yemen's entire population — has the potential to contribute to the country's instability and potential trajectory toward failure.
Yemen is running out of water – fast.
But the water crisis and the rise of militancy are not unrelated perils said Abdulrahman Al Eryani, Yemen's minister of Water and Environment, in an interview. Much of the country's rising militancy, he argues, is a conflict over resources.
"They manifest themselves in very different ways: tribal conflicts, sectarian conflicts, political conflicts. Really they are all about sharing and participating in the resources of the country, either oil, or water and land," said Minister Eryani. "Some researchers from Sanaa University had very alarming figures. They said that between 70-80 percent of all rural conflicts in Yemen are related to water."
Khalid Al-Thour, a geology professor at Sanaa University, adds that recent reports have indicated that Sanaa's wells will run dry by 2015 at current water-usage rates.
---