US and Iraq try to contain Iran weapons smuggling
The US military steps up efforts to stop Iran from using the marshes of southern Iraq to smuggle weapons.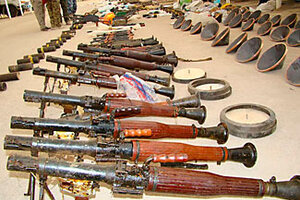 Reuters
Hundreds of miles from Baghdad, the United States and Iraq are making a major push to fight arms smuggling and infiltration from Iran in the run-up to national elections here in January.
The Iran-Iraq border in Maysan Province is straddled by more than 150 miles of desert and marshland that the US and Iraqi militaries allege to be a vital support corridor for Iraqi Shiite militants with ties to Iran.
US officers say that all roads from Shiite militant attacks in Baghdad lead back to here – even when there is no road.
"Everything that happens in Baghdad or Mosul by the sectarian Shiite groups is all tied to Iran – you have to cut the threads that tie them, and almost all of them start here," says Lt. Col. Scott Stephens, the intelligence officer of the 4th Brigade Combat Team, 1st Armored Division.
Securing the border area has become such a priority for the Iraqi government that in August it moved its 10th Army Division headquarters from Nasiriyah to Amarah, the capital of Maysan. The Iraqi Army and border enforcement police, along with the US, are establishing a joint security station on the edge of the marshes.
---