As Netanyahu meets Obama, Israel ex-general offers Hamas talks
Former Defense Minister Shaul Mofaz, now leader of Israel's opposition party, unveiled a new peace plan Sunday – and aspirations of replacing Netanyahu.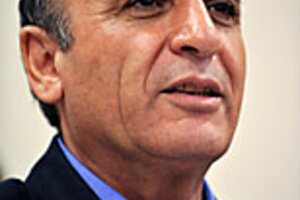 Amir Cohen/Reuters/File
Shaul Mofaz, a leading opposition politician in Israel whose former posts include both army chief of staff and defense minister, said Sunday he has a plan for Israeli-Palestinian peace – and he's willing to talk to Hamas to secure it.
"I will also speak with the devil, if it will bring peace to the state of Israel," Mofaz reiterated Monday during a visit to Sderot, which has often been the target of rocket attacks from the Hamas-controlled Gaza Strip. "And if Hamas is chosen in elections to head the Palestinian Authority ... I am ready to speak with them."
But the timing of Mr. Mofaz's announcement, in which he boldly stated that he hopes to carry out his vision as prime minister, aroused skepticism among both Israelis and Palestinians that his intent had more to do with promoting himself than the peace process. Both Prime Minister Benjamin Netanyahu and opposition leader Tzipi Livni, Mofaz's rival during party primaries last year, were in the US.
"Mofaz's declaration aims at using the Palestinian dispute for his own purposes," says Salah Al Bardawel, the spokesman of the Hamas parliamentary bloc.
---