Abu Ghraib attack raises fears of resurgent Al Qaeda in Iraq
The murder of 13 in Abu Ghraib this weekend has some worried that Al Qaeda in Iraq may be exploiting gaps between withdrawing US forces and Iraqi troops not yet ready to stand alone.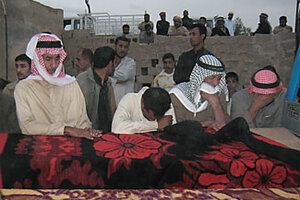 The execution-style killings of 13 Iraqis over the weekend west of Baghdad has raised fears than a resurgent Al Qaeda in Iraq (AQI) is taking advantage of the gaps between retreating US forces and Iraqi troops not yet capable of maintaining security on their own.
Iraqi security officials on Tuesday said 13 members of the same tribe were shot dead on Sunday by gunmen posing as Iraqi soldiers in two villages in the Abu Ghraib district on Baghdad's outskirts. The Associated Press quoted a spokesman from the Iraqi Islamic Party (IIP), a Sunni political movement seen by Sunni insurgents as traitors, as saying a party official was among the killed.
The attack was carried out in an area where AQI has been making attempts to regroup as the US repositions fewer forces throughout more territory in the wake of the US-Iraq security agreement and an ongoing drawdown, say US officials familiar with the issue, speaking on condition of anonymity.
Security experts say AQI, while considerably weakened, appears to be taking advantage of the spaces between effective security forces.
---