Why Morocco welcomed human rights activist Aminatou Haidar home by arresting her
Human rights activist Aminatou Haidar, dubbed 'Gandhi' for her efforts to win Western Sahara's independence, launched a hunger strike after Morocco deported her this weekend.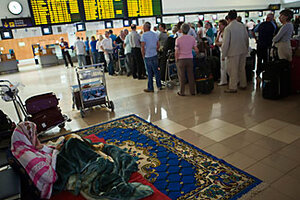 Borja Suarez/Reuters
Fresh off winning a prestigious international human rights award in New York, activist Aminatou Haidar received no warm welcome when she returned to Morocco last Friday.
Instead, she was arrested and deported by Moroccan officials.
Her crime? Leaving the citizenship line blank on her customs form, and writing Western Sahara – the disputed Moroccan territory where she lives – on the address line.
On Monday, Ms. Haidar declared a hunger strike and said she'll carry out her fast "to the death" if authorities continue to bar her return home. It's one of many risks she has taken in a 20-year campaign to win independence for the people of Western Sahara, a region Morocco annexed in 1975.
Haidar's perseverance was highlighted by the Train Foundation on Oct. 21, when it awarded her the Civil Courage Prize in New York. Among other trials, the foundation cited Haidar's 1987 arrest, disappearance, and subsequent four-year prison sentence, along with another seven-month detention in 2005.
After receiving the award, whose previous winners include the late Russian investigative journalist Anna Politkovskaya, Haidar told reporters she still faced a constant risk of arrest in Morocco. When Haidar came home to the Western Saharan city of Laayoune, police proved her right.
---