Palestinians accuse Israel settlements of diverting water
Israel settlements use more than four times as much water as Palestinians and the absence of a peace agreement is stalling negotiations to improve the situation.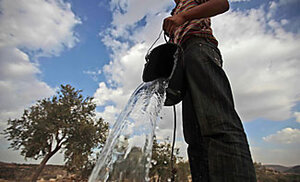 Muhammed Muheisen/AP/File
The Hmoud family once prospered in this arid Palestinian farm village by cultivating banana and eggplant crops, earning enough to send a son abroad for medical school and to build a house with a showy staircase and a two-story window.
But drought has decimated the spring that is Auja's only agricultural water source, and fields once filled with palm trees are now empty. Village residents have been forced to find work in the greenhouses near Jewish settlements that are hooked up to Israeli water mains.
"This before you is barren land," says Mahmoud Hmoud, standing in parched field littered with plastic sheeting. "Ten years go it was blooming."
Long a hot-button in the parched Middle East, the need for a water-rights compromise here has become more acute after years of dry winters, as Palestinians struggle with what they say are insufficient quotas and Israel mulls steep tax hikes on home and garden usage. Both sides blame each other for failing to honor the 1995 interim agreement still in effect. Though potential solutions exist, little progress can be made until the peace process – stalled for nearly a year – is restarted.
Two straws, one glass of water
The dispute partly focuses on rights to a "mountain aquifer" underneath the hilltops of the Israeli-occupied West Bank. It collects rainwater, most of which then flows through subterranean rock formations across the Green Line into Israel proper.
"It's actually as if two people are drinking from the same glass of water with two straws,'" says Prof. Hillel Shuval, an environmental resource expert who helped negotiate a water compromise as part of the Geneva Initiative peace agreement, a hypothetical model put forth in 2003. "The ground water under the West Bank and Israel is a shared resource."
---