Gilad Shalit release: Hamas, Israel prisoner swap said to be imminent
Israel's captured soldier Gilad Shalit would be exchanged for up to 1,000 Palestinian prisoners in a deal that could be be finalized this week, a Hamas official told the Monitor.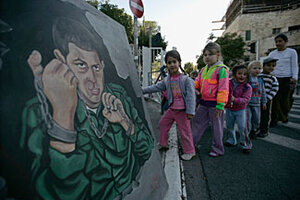 Ammar Awad/REUTERS
Israel and Hamas appear to be moving closer to a prisoner swap in which Israel would release up to 1,000 Palestinian prisoners in exchange for captured Israeli soldier Gilad Shalit.
A Hamas official who asked not to be quoted told the Monitor on Monday that Israel and Hamas would probably reach a deal by week's end. One of the Gaza newspapers closest to Hamas, al-Risala, reported that the swap was being delayed by disagreement over just one prisoner. Later in the day the family of Marwan Barghouti – a popular West Bank Fatah leader held by Israel since 2002 – claimed he would be released as part of the deal.
An prisoner exchange could provide a major boost to Israeli Prime Minister Benjamin Netanyahu, who has been pressed by US officials and other international mediators to show he's working in earnest to reverse a near breakdown in Israeli-Palestinian peace efforts. Similarly, the deal would bolster Hamas – and in Mr. Barghouti could provide a charismatic leader to succeed Palestinian Authority President Mahmoud Abbas, who has said he will not seek reelection, and possibly bridge the Fatah-Hamas divide.
---