Egypt-Algeria World Cup violence used to rally support for Mubarak regime
A violent war of words after two Egypt-Algeria World Cup qualifiers is being used by the regime of Hosni Mubarak to rally support and distract from Egypt's domestic woes, critics say.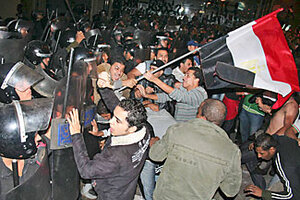 Ahmed Gomaa/AP
Street-level clashes between fans that began over a soccer game between Algeria and Egypt last week have escalated into an international diplomatic incident that goes to the core of Egypt's identity and its waning role as Mideast powerbroker.
Libyan leader Col. Muammar Qaddafi announced today he would accept an Arab League request to mediate in the escalating conflict between the two states after Algeria beat Egypt for the last African slot in next summer's World Cup.
In Algiers, offices of Egyptian businesses were vandalized after Egypt won the first qualifying match Nov. 14. Following Algeria's victory in a sudden death playoff four days later, the government-controlled Egyptian media accused Algeria of "terrorizing" its citizens, fomenting animosity that culminated in hundreds of Egyptian rioters descending on the Algerian embassy in Cairo to seek revenge. Egypt recalled its ambassador to Algiers to protest alleged attacks against Egyptian fans in Khartoum, though he later returned to his post.
"Egypt does not tolerate those who hurt the dignity of its sons," a visibly angry President Hosni Mubarak told parliament over the weekend.
---