Saudi Arabians use Facebook to vent fury over Jeddah flood deaths
After flooding in Jeddah killed more than 100 people, Saudi Arabians have flocked to Facebook to press the government for better drainage. A Katrina moment for Saudi leaders?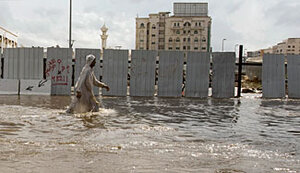 Caren Firouz/REUTERS
Last week's flooding that left more than 100 people dead in Jeddah, Saudi Arabia's second-largest city, has sparked an unusual wave of citizen outrage on Facebook and in the state-run local press.
The outburst of public fury includes calls for some royal princes and government officials to resign, calling to mind the widespread anger in the US over the Bush administration's ineffective response to hurricane Katrina in 2005.
"This anger has never happened before," says Waleed Abu Al Khair, a human rights lawyer in Jeddah and one of the creators of a Facebook page that has drawn more than 20,000 comments in four days.
The exasperation evident in the comments and in the columns of Saudi newspapers is propelled by widespread Saudi belief that mismanagement and corruption are to blame for Jeddah's lack of adequate storm drainage and sewage systems.
"Good job, mayor!" said a sarcastic comment on the Facebook page titled "Popular Campaign to Save the City of Jeddah." "All these billions, all these contracts.... You have betrayed our trust!"
Other angry citizens, many of them using their real names, posted links to old official announcements of multimillion-dollar spending plans to update Jeddah's infrastructure. Some demanded that officials be put on trial.
"People have been very vocal ... and unafraid because they've seen the worst. They have reached their breaking point," said Reem Asaad, a Jeddah lecturer on finance. "We're fed up living in a city like Jeddah ... where services and infrastructure are poor. We deserve much better."
---