Timeline: Iran's reach for nuclear power
Mileposts in Iran's quest to harness nuclear power.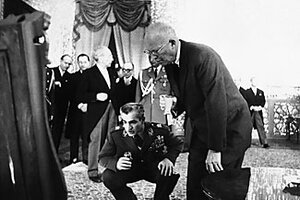 AP/File
1957: The US and Iran sign a civilian nuclear cooperation pact. The US provides technical aid and several kilograms of enriched uranium to help the country build its first nuclear reactor.
1974: The shah, encouraged by the US to diversify Iran's energy resources, launches a program to build 23 nuclear reactors.
Mid-1970s: The Iranian government receives nuclear assistance from other nations, including France, West Germany, India, and South Africa.
1979: The Islamic revolution overthrows the shah. Nuclear cooperation with the West ends. Tehran decides it doesn't need nuclear energy. Around this time, the US says it has intelligence that the shah had set up a clandestine program to develop nuclear weapons.
1984-1988: During the Iran-Iraq War, Baghdad bombs Iran's two nuclear reactors at Bushehr. Iran resumes its interest in a national nuclear program. In 1985, the Islamic Republic, together with Libya and Syria, says they should all develop nuclear weapons to counter the Israeli nuclear threat.
---