Israel rejects European Union plan to divide Jerusalem
Israel's foreign ministry said a Sweden-led initiative to divide Jerusalem, with East Jerusalem as the eventual Palestinian capital, would marginalize the European Union's ability to foster peace.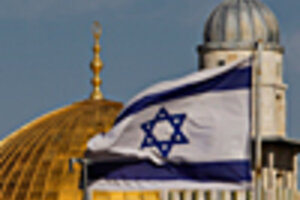 Dan Balilty/AP
Israel's foreign ministry said Tuesday that a Swedish-led push for the European Union to call for the division of Jerusalem and the recognition of East Jerusalem as the capital of a Palestinian state would trip up Europe's own efforts to play a role in Middle East peacemaking.
"We would like to see the Europeans more involved and playing a role," but it will be more difficult for them to do so if they press ahead, says Israeli foreign ministry spokesman Yigal Palmor. "The Swedish initiative does not contribute to promoting the peace process, and all it can do is to marginalize the European role."
"It will only convince the Palestinians that they can remain the trenches," he adds.
Israeli diplomats have been working overtime across Europe to stop the document from being adopted when European foreign ministers meet Dec. 7 to set a Middle East policy statement.
Greater European role
Several individual European countries have taken a more active role in the peace process in recent weeks. France's Nicolas Sarkozy has been facilitating Israeli-Syrian communication, and German mediators are playing a role in negotiations over a prisoner deal, in which Israel would win the release of its captive soldier, Sgt. Gilad Shalit, who has been held for more than three years by Hamas, in exchange for up to 1,000 Palestinian prisoners held in Israeli jails.
---