In Israeli settlements, residents and builders push back on 10-month freeze
Israel has begun to enforce a 10-month freeze on Israeli settlements in the West Bank, sending officials out to construction sites to issue stop-work orders.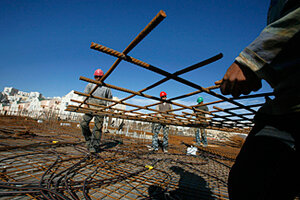 Gil Cohen Magen/Reuters
Israeli officials shut down construction work in this town and dozens of other settlements throughout the West Bank on Monday, the first step in Israel's 10-month settlement freeze. But builders and settlers are pushing back on Prime Minister Benjamin Netanyahu's edict. Palestinians aren't happy with his controversial bid to restart stalled Middle East peace talks either.
At a construction site here in Oranit, a settlement that hugs the Green Line border with Israel proper, foreman Moshe Halfon said he sent 11 Palestinian laborers home for the day after building inspectors from the Israeli military's civil administration issued a stop-work order for a new development of 300 houses.
"They said it was because of Bibi [Netanyahu], and that 'no work until further notice,'" Halfon said, still sounding stunned just a half hour after being shut down. "I thought we had all the authorizations."
Builders said they plan to sue the government for financial damages from halting work on construction projects already approved by building authorities. At Oranit's town council building, administrative staff said they had fielded complaints from upset residents left dangling between mortgage payments owed on their future homes and the need to rent temporary housing.
Settler leaders on Sunday ripped up the military stop-building orders and on Tuesday residents used automobiles and tractors to physically block building inspectors and their police escorts. Meanwhile, settler rhetoric is comparing Mr. Netanyahu to his predecessor Ariel Sharon, who evicted settlers during the 2005 Israeli withdrawal from the Gaza Strip.
---