Iran nuclear program: Can it produce its own fuel?
Ahmadinejad said Wednesday that the Iran nuclear program could produce its own higher enriched nuclear fuel. But some analysts cast doubt on Iran's capacity to do so.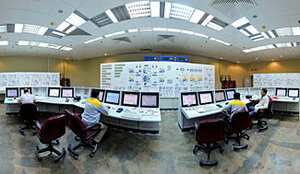 Mehdi Ghasemi/ISNA/AP
Iran's President Mahmoud Ahmadinejad says Iran will make its own higher enriched nuclear fuel, effectively rejecting a UN-backed exchange proposal that would have eased Western fears about Iran's nuclear program.
A defiant Mr. Ahmadinejad said on Wednesday that Iran was tired of the continued sparring over a swap offer, in which it would ship out its own low-enriched uranium, purified to less than 5 percent, for the 20-percent enriched fuel it needs.
"I declare that by the grace of God, the Iranian nation will produce 20 percent enriched uranium and anything it needs itself," Ahmadinejad told thousands of people in the central city of Isfahan. It was Iran's latest volley in a nuclear back-and-forth with the UN nuclear watchdog agency and the five permanent UN Security Council members plus Germany.
Yet analysts cast doubt on Iran's technical and industrial capacity to fulfill either that pledge, or the dramatic expansion of Iran's nuclear enrichment effort announced last Sunday.
Iran is not known to have the technology to fabricate its own fuel rods. France and Argentina are practically alone in being able to supply the specific fuel needed by Iran's small reactor to continue producing medical isotopes in Tehran.
Iran censured last week
---